Event
Tavastia
Urho Kekkosen katu 4-6

,

00100

Helsinki

Finland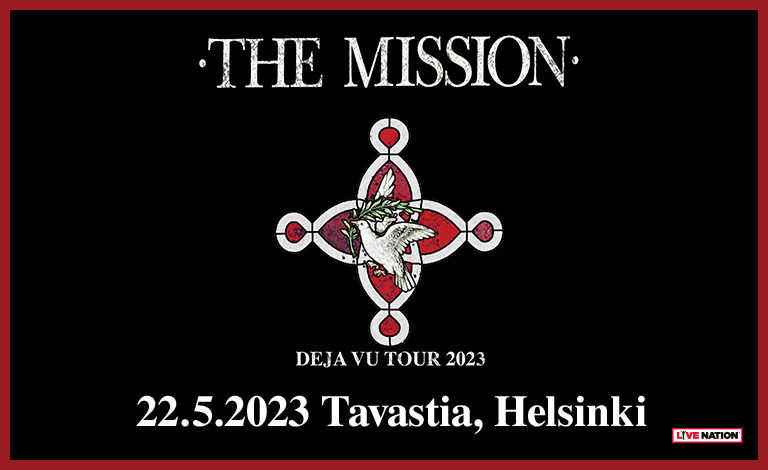 The Mission (UK)
Mon 22.5.
18+
Tavastia-klubi
THE MISSION'S HELSINKI CONCERT RE-SCHEDULED TO 2023
The Mission's Helsinki show postponed to April 2022 has been re-scheduled due to the postponement of the band's European Tour. The concert will now take place on May 22nd, 2023 at Tavastia. Tickets already purchased for the 2020, 2021 and 2022 show will be valid for the new date. Due to the change from two events (21.-22.4.2020) to a one-day event, two persons can enter with a two-day ticket.

If the new date is not suitable, tickets can be returned to their point of purchase (Tiketti) www.tiketti.fi/returntickets by April 3rd, 2022. For more information about the re-scheduling and other relevant instructions, please visit livenation.fi: https://bit.ly/3GlAcGI


The band and Live Nation Finland apologize for any inconvenience caused by the re-scheduling.
NEW DATE:
The Mission (UK)
Mon 22.5.2023 Tavastia, Helsinki
Doors at 8PM, age limit 18+
***
All up-to-date information related to this event, including information about its possible cancellation or re-scheduling, can be found on the event's own website at www.livenation.fi and Tiketti.

If the event is cancelled for any reason, tickets will be requested to be returned to the place of purchase and the ticket price will be refunded to the original purchaser in accordance with Tiketti's policies. If the event is postponed for any reason and the new date is not suitable, tickets can be returned to the place of purchase by the stated last return date, but no later than 2 months after the event organizer has announced a new date for the event. Read more about Live Nation's cancellation/re-scheduling policies here:
bit.ly/3kZ5ad5